Saaki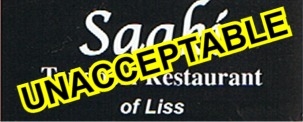 November 2007
Saaki on Wednesday 14th November 2007 was without a doubt the worst Curry Club meal that I have experienced. There are more details on the blog site, but one thing is clear - we won't be going back there until they engage a cook and establish some sort of decent reputation.  Will's comments:
click here
The food was absolute rubbish. Each plate of starters included a little pool of Chinese sweet chilli dip - but even that was mild. The main courses were unspeakably bad. Nothing had flavour or much in the way of colour.  Even the additional Madras curries that were rustled up at the end were completely bland.  The only redeeming factor was the St Emilion at £11.95 a bottle, since this acted in the absence of decent food as an anaesthetic.
Eight of us turned up and we paid the agreed price, £120, for the food. We were royally ripped off, and frankly we should have refused to pay. With cooking this bad, I wonder what other standards are (or aren't) being met.
The fact that no-one else came near the restaurant, not even for a takeaway, between 20:15 and 22:00 is a pretty fair sign that the locals know the score. And now we do, too. The best thing the owners of this place can do is to close it down.
Will comments:
November 2006 (he gave them two stars at the time but these have been confiscated - for the avoidance of doubt)
Alas I am no Columbus!  This week t'was my intention to explore uncharted territory, to The Agra Tandoori in Havant but on Wednesday eve I ended up in Liss.  Saaki, on the banks of the River Rother, once a foaming torrent now a quiet trickle.  Inside the PLACE resembles a Mogul marquee, rich maroon,  an enormous glass chandelier suspended from the tented ceiling.  'Success runs in the family' announces the menu.  One illustrious relative, 'a man of many parts' opened the first Indian restaurant in Britain before Waterloo then became shampooing surgeon (chief hairdresser or carpet cleaner?) to royalty no less!
Yes, the restaurant had between 20 and 30 diners ably supported by 2 waiters, presumably heirs to Sake Dean Mahomet.  SERVICE allowed for my companion and I to enjoy a slow relaxed evening out.
At the end, we slipped away into the night with a takeaway menu as a keepsake only to find on 2nd glance we could have got £5 off our £30 bill! 
However, I was spared going back 3 years, building a time machine etc.. on 3rd glance the offer expired October 31st 2003 and why bother? PRICES are such a 4 course meal comes to £13/14.
Our FOOD consisted of a stuffed Pepper and a delicious savoury Lamb Kebab wrapped in a Chapati followed by Prawn Patia, which caused a highly satisfying bitchy chilli kick at the back of the throat and an average Chicken Tikka Dupiaza.  The best dish, 'Misti Lou', not a dewy eyed prostitute but a gorgeous Pumpkin bhaji.  A large glass of house red only two squids.
In SUMMARY, success still runs in the family though unlike the décor the cooking probably isn't fit for royalty.  Nonetheless, there aren't many curry houses adopting their laid back approach to dining and mores the pity, I like it!  The neighbouring Madhuban could learn something from these brothers.
Wednesday 15 Nov 2006 - while England laboured against Holland.
June 2006
During the football World Cup  - we visited Saaki.  10 or so preferred curry to football (Germany v Poland), and we had a good varied meal.  Nothing too spicy - no red cards here! 
Address:
73 Station Road, Liss (right next to the station and the level crossing)
Pubs:
Last visit:
November 2007
Phone:
01730 895455